Back to shop
Regular price
Sale price
$75.00
Unit price
per
Sale
Sold out
Current produce selection (as of 02 December 2023)· 1kg Désirée Potatoes · 1kg Sweet Potatoes · ½ kg Carrots · 4 Truss
Read more
View full details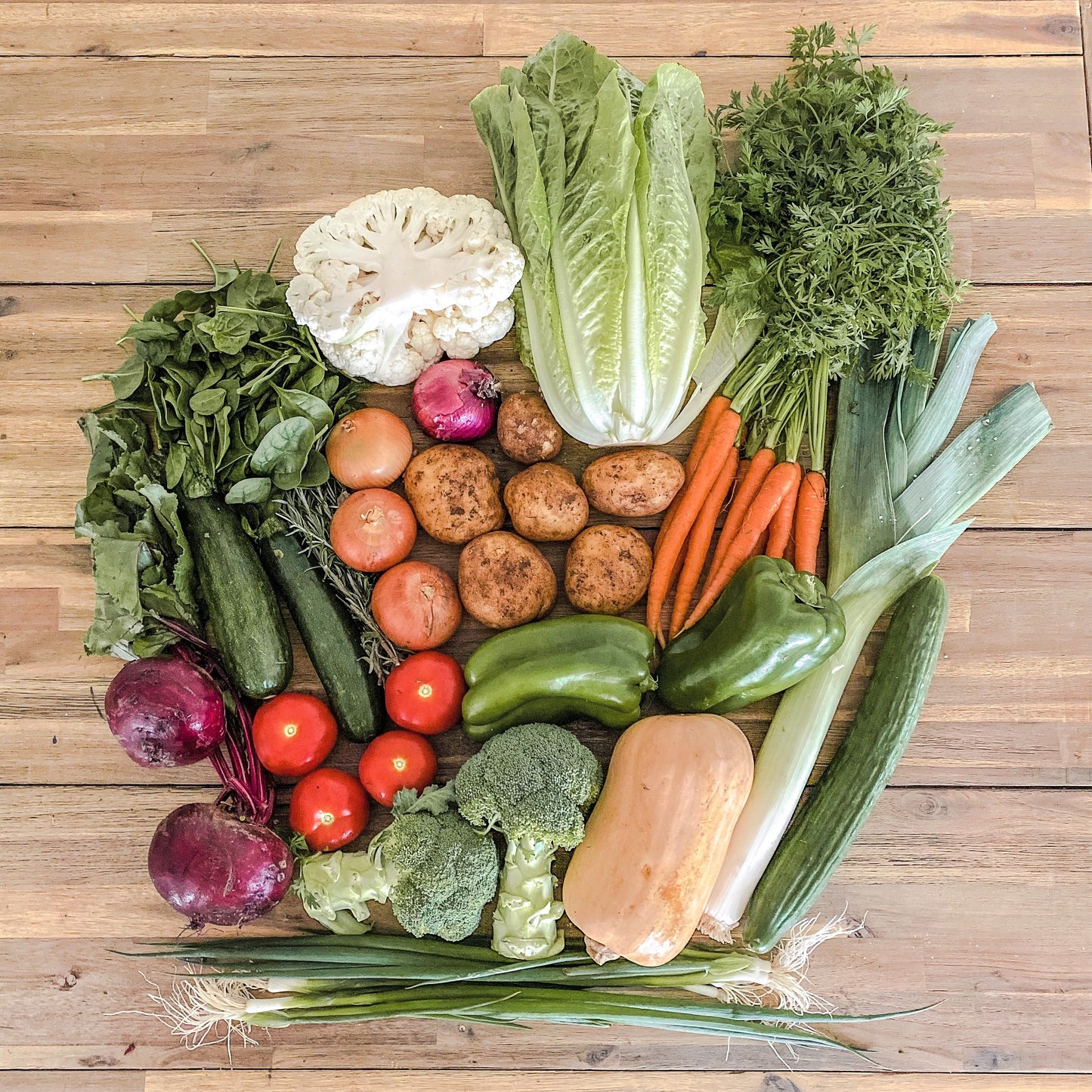 Current produce selection (as of 02 December 2023)
· 1kg Désirée Potatoes · 1kg Sweet Potatoes · ½ kg Carrots · 4 Truss Tomatoes · 2 Brown Onions · 1 Spanish Onion · 2 Lebanese Cucumbers · 2 Red Capsicums · 2 Broccolis · 2 Corns on the Cob · Cauliflower · Iceberg Lettuce · Eggplant · Celery · Bunch Silverbeet · Bunch Spring Onions · Bunch Parlsey

Discover the Seasonal Veggies FarmBOX, our most popular produce delivery featuring 16 farm-fresh, locally-sourced vegetables. Experience a vibrant and ever-changing assortment of seasonal favorites and unique offerings that support local farmers and sustainable practices. Enjoy healthy, delicious, and diverse meals with the freshest veggies delivered right to your doorstep!

Not a fan of a particular veggie? We now allow for swaps! Just mention which item you'd like less of and we'll be sure to put more of something else.
100% Freshness Guarantee

We're so confident about the quality of our produce that we offer a 100% freshness guarantee whereby if you're not fully satisfied with any of your produce or groceries, we will offer a same-day replacement or refund. 
Farmbox Co services households across all of Melbourne and parts of the Gippsland region. Click here to see the full list.

Don't see your area listed? Feel free to contact us and we will see if we can accommodate.
Check out some of our favourites